Discover How You can Build Your Own PC Fast
Guide updated for 2021
Now it's even easier to learn how to build your own computer

Have you ever wondered how to build your own computer? Many people write it off as "too difficult", however by following this guide we will show you how simple it is! We'll take you through the entire process in plain easy language step-by-step and you will be amazed how easy it really is.
Building your own computer is a very satisfying task, you will get exactly the PC you want that will run how you want it to? You may even save some money too, cool huh?
Whether you're 12 or 60, or you're after a hardcore gaming computer, a simple workstation for email and documents or a budding video editor churning out YouTube videos at a rate of knots, you build your own computer from the ground up to suit exactly your needs.
Below is a quick summary of the benefits of building your own PC and how this guide will help you from the very start. If you prefer to jump right in, go ahead and get started building your PC!.
Why build your own PC?
Ready built PC's are so cheap, why would you bother? Fair question. Here's a few reasons: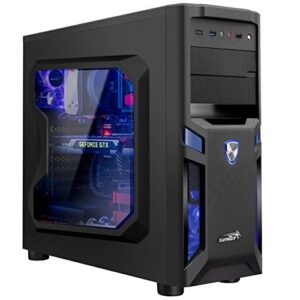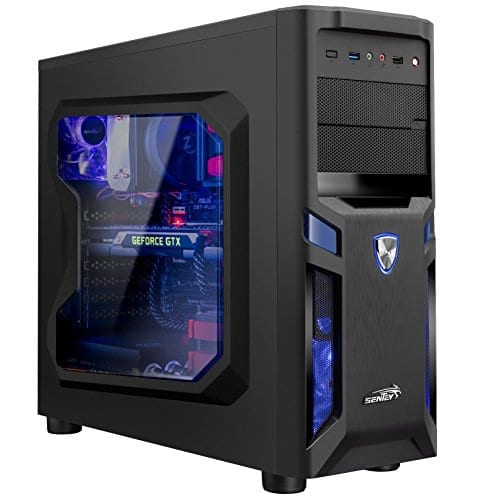 Customization – By selecting each component to suit your needs now and into the future you get exactly the PC for your needs, a machine you know you'll be happy with and will perform your tasks and meet your budget.
Easy to Upgrade – Off the shelf PCs are meant to be easy to buy, and will suit a lot of people for most tasks. But they are generic by design and use specific components – largely to keep the costs down for the manufacturer. However many times you are limited by base components and find that upgrades are difficult or even impossible. With your own PC you can ensure that should you wish to say, upgrade to a new graphics card to play the latest game or if your computer is struggling with heavy apps and you need more RAM, then you can!
Personalization – Not just the bits you choose to build, but you can choose a cool case like the one next to this listing – build it your self, make it your own.
How to use this guide
If you lose track at any time click "Start Here" from the top menu for a list of all steps to build your own computer or revisit the home page to come back here.
The first stage will walk you through how to choose the correct components for your computer based on your needs and your budget. You can start it here with the getting started page, or just read on for the instruction summary.
Next you'll be guided through the basics so you can discover how to build your own computer, the tools for the job (you may already have these) as well as the basic components which will make up the completed computer and also any optional components and peripherals – bluray/dvd drives, printer, scanner etc.
Remember one thing, the component selection is the most time consuming part mostly because people tend to get caught up in "this graphics card, vs that graphics card" or this "motherboard vs that one"… Try not to get caught up the details even if you're after a super-performing mean gaming machine!
Following on from there, the guide will step you through putting all the bits together, installing your operating system and then troubleshooting if things don't go as planned!
Ready? So let's get started! Step 1: The first step to building your own computer.